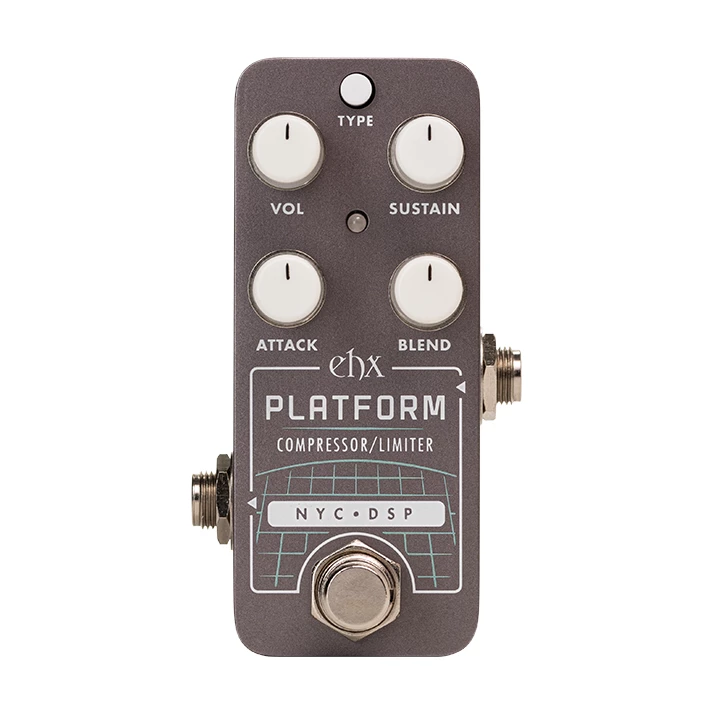 Electro-Harmonix - Pico Platform
The EHX Pico Platform Compressor / Limiter is a powerful and versatile studio-style compressor enclosed in a pico-sized package. Borrowing from the original, the Pico Platform condenses the comp section of the full-sized Stereo Platform for those looking to fit smooth studio compression onto any pedalboard. Packed with 2 modes and Hard/Sort Knee compression options, it is a perfect fit for sculpting your dynamics with professional precision.

Use the Pico Platform compressor / limiter on any instrument for precise and powerful control of your signal's volume and of course, extended sustain on leads. Add subtle dynamic control to level out peaks and valleys in your signal or give your sound a real squeeze for extra sustain and pop. The Pico Platform is extremely transparent with no tonal coloring, making it extremely versatile and easy to work into your existing set up.
Productid:
84153
Barcode:
683274012537
Brand:
- Studio-style compressor / limiter to precisely tune dynamics
-Compressor and Limiter modes for a wide range or compression styles
-Selectable Hard Knee / Soft Knee compression curves
-Sustain adjusts Compressor ratio or Limiter threshold
-Attacks adjusts attack time
-Blend adjusts dry/wet ratio
-Volume control overall output level
-Power adapter included