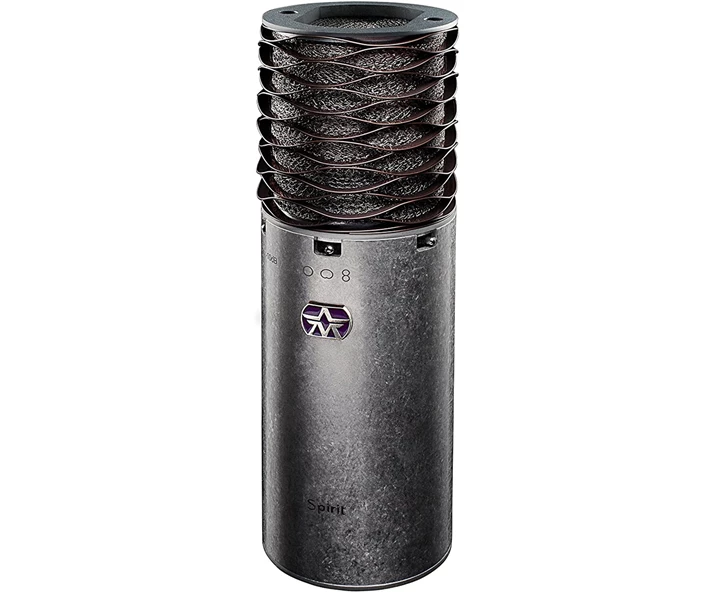 ASTON -SPIRIT- Multi Pattern Studio Cond Micro
The Aston Spirit is a high-performance, switchable pattern, large diaphragm condenser microphone utilising a 1" gold evaporated capsule. A switch on the mic body selects from Omni, Cardioid or Figure-of-Eight polar patterns.
It is versatile enough to use with most instruments and excels on acoustic guitar and vocals. Its Aston 33 panel selected capsule is teamed with high-end transformer balanced circuitry using only the best components.

The Spirit is designed to deliver a beautifully open sound with sparkling harmonics. This highly accurate microphone gives a stunningly natural and transparent recording, capturing all the detail in the high range but without adding the harshness that some condenser microphones seem to.
Productnummer:
75417
Merk:
Switchable polar pattern: Cardioid, omnidirectional, figure-8
Frequency range: 20 Hz - 20 kHz (+/- 3dB)
Max. sound pressure level: 138 dB
Pad switch (-20 / -10 / 0 dB)
Low-cut filter 80 Hz
Requires 48 V phantom power
Integrated pop filter
Stand thread in housing
Integrated shock absorption of microphone capsule
Dimensions (L x W): 174.5 x 54 mm
Weight: 0.547 kg